In a previous blog post, we had the opportunity to interview Sophia Khawly, The Traveling Nurse Practitioner, and ask her about her career as a locum tenens NP. We wanted to catch up with her to see where she is now and how she is handling the COVID-19 pandemic. Check out her interview below!

Tell us what you are up to now, professionally and personally, during COVID-19.
I was originally scheduled to end my current assignment in Kentucky at the end of March. However, due to COVID-19 I ended up extending my assignment to the end of May. This made sense for both me and the site. I didn't think it was an ideal time to travel and thought it would be best to stay put.
For my clinic, we transitioned 75% of our visits to Telehealth. So since I already have a rapport with my patient panel, it would be easier for me to manage them virtually versus someone else covering that does not know the patients.
Meanwhile, my family is in Miami. We usually video chat on Zoom every weekend, since it's always someone's birthday. I have tried to remain physically active by going for walks by the river where I live, like the image in this article, or utilizing the small gym in the apartment unit when it was open.


How has the COVID-19 pandemic affected your current job?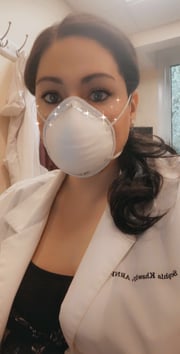 My current job consists of only geriatric patients, so patients 65 years old and older. This is a high risk group for obtaining the COVID-19 and developing complications. This is why we have converted to Telehealth so our patients can remain at home. However, we are still practicing in the office because some patients do come into the clinic for acute reasons such as congestive heart failure or chronic obstructive pulmonary disease exacerbation. We try to discourage patients with COVID-19 symptoms from coming into the office. Instead, we manage them virtually. If they have mild symptoms we recommend they self-isolate and rest at home. We check up on these patients daily. For patients that have more severe symptoms, we recommend that they go to the emergency room.


How has it impacted other NP friends?
A lot of my friends that are either nurse practitioners, physicians, or dentists have been furloughed. Some of my friends have been able to continue working but have also converted to mostly telehealth visits. Those that work inpatient as Hospitalists or in the ICU have been working over time. They report being fearful every time they go to work about obtaining COVID-19, but are trying to be vigilant about wearing appropriate PPE. In addition, I know several locum nurse practitioners that had their assignment cancelled abruptly.


What do you have planned in the next 6 months? 12 months?
I plan on working with my current site at one of their other locations in a different state. I am planning on committing to a longer assignment. So instead of the typical 3 month assignment, I will commit to 6 months - 12 months. As a result of COVID-19, there will still be travel but not as plentiful as before.


Do you anticipate some of the new protocols staying in place permanently (i.e. social distancing-1 patient in waiting room at a time, more telehealth, etc.)?

Yes, I believe social distancing will extend to at least the end of next year. We need time to develop a vaccine and effective treatment options. Most medical practices will continue providing services to patients via telehealth. Perhaps even when social distancing ends, providers will continue implementing telehealth in their practice, as it facilitates access to care.


It's hard to think of this pandemic in a positive light at all but is there anything you have experienced during this challenging time that has been for the better?

A good thing to come out of this pandemic is that it has given everyone the opportunity to press pause. We are usually always on the go but now we have the chance to reflect on our gratitude, build on our relationships, and work on self growth. I have loved witnessing how people have been helping each other. Whether through donating funds to Feeding America; covering people's rent that have lost their jobs; providing meals to healthcare workers; or even just checking on an elderly neighbor.



Last question: what shows have you binge-watched during this time and do you have any good books you would recommend?

I have binge watched Ozark and Love is Blind on Netflix which I highly recommend. I have been able to finish reading a book every week. I recommend "Becoming" by Michelle Obama ; "Nightingale" by Kristin Hannah; and "Financial Freedom" by Grant Sabatie.


Thank you, Sophia! We always love catching up with you. If you would like to learn more about her experiences as a traveling nurse practitioner or are looking to begin travel work, check out her blog for nurse practitioners, The Traveling NP.