Travel Nursing
When you need qualified nurses fast, LeaderStat is here to help.


Our team of experienced healthcare recruiters understands that when your organization has a travel nursing need, time is of the essence. We specialize in recruiting highly qualified, experienced travel nurses who are committed to your organization's success.
Whether you have a critical need or difficult-to-fill position, our travel nurses are able to jump in to a new environment and get up to speed quickly. Our extensive pre-screening process ensures they have excellent clinical, analytical, and communication skills.


We fill travel nursing roles in a variety of healthcare settings, including:


General hospitals
Surgical hospitals
Community hospitals
Health centers
Emergency rooms

Urgent care facilities
Rehabilitation centers
Nursing homes
Home Health
Hospice
"Candidates are a strong match with our culture, skillset and potential we are looking for."
Travel Nurse Benefits
A travel nursing career offers many benefits including flexibility, variety, and the opportunity to expand skill sets.
Lifestyle
A travel nursing career allows flexibility and control of work schedules and environment. Many travel nurses choose to work full time and move from placement to placement throughout the year, while others work a few select assignments during the year and can choose where they want to work.
Professional growth
Travel nurses find assignments in a variety of healthcare organizations. From acute care hospitals to family practices, a travel nursing career provides the opportunity to expand skill sets, experiences and professional networks.
Mental health
One of the biggest advantages of being a travel nurse is the ability to avoid burnout. Short assignments in different organizations and areas of the country help keep the job fresh and can be very rewarding. Additionally, a 13-week assignment is enough time to allow travel nurses to focus on the job and the patients, make an impression and then move on to the next exciting challenge!


Your Recruiting Partner
With nearly 20 years of healthcare recruiting experience, our team is dedicated to helping our clients find exceptional staffing. Our commitment to customer service to both our clients and healthcare professionals has earned us ClearlyRated's Best of Staffing Client and Talent Satisfaction awards.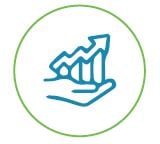 CLIENT
SATISFACTION
RATING:
94%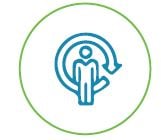 CLIENTS WHO ARE
REPEAT CUSTOMERS:
91%

CANDIDATE
SATISFACTION
RATING:
85%