The very nature of a career in travel nursing appeals to those who prefer to live on the adventurous side of life. New and exciting locales add an enjoyable bonus to their passion for caring for others' needs via a nursing career.
A focus on safety, when traveling and when working, must accompany the travel nurse's thirst for adventure to ensure a memorable-for-the-right reason. With frequent moves at the heart of this healthcare profession, travel nurses would do well to establish a "safety first and foremost" mindset that takes time to think through a set of guidelines to follow with each move.
Document Important Information
Prior to leaving on your assignment, record the following information. Keep a copy and share one with family.
Travel Itinerary - include where you are staying and information on your assignment including expected shifts
Local Police Department Phone Number
The phone number for your credit card company should you lose your cards or they are stolen
On the Move
Before the actual move—
Visit the new locale virtually. Check out the neighborhood with a visit to http://www.cityrating.com/crime-statistics/ or http://www.crimemapping.com.
Scope out restaurants and shopping areas, entertainment venues, and churches. Utilize sites such as Yelp.com for reviews and suggestions.
Map a couple of routes from where you will be staying to the hospital. Note the areas each course will pass through. Consider the time of day you will be heading to and from work.
Once you arrive, travel each route to determine which one appears safest.
On the road again
Invest in a reputable emergency assistance plan such as AAA. Consider the membership cost a small fee for the peace of mind you will have while traveling and the safe, efficient assistance you will receive in the event of a flat tire of a vehicle breakdown.
If driving by car, map out a route, including where you will stop for meals, breaks, and overnight.
Choose a town versus a rest area whenever possible. Always choose busy, well-lit options over seldom trafficked and poorly lit locations.
Share detailed travel plans with friends and family. Check-in with them while traveling to share your progress, as well as any situations you have encountered. Consider a location-sharing service such as Life360 for real-time updates.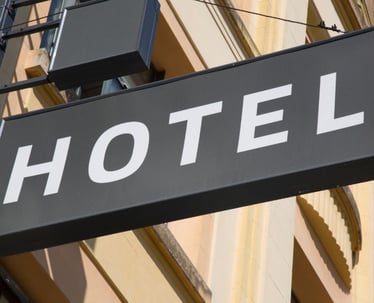 Hotel Precautions
Corporate Travel Safety recommends these hotel safety tips:
When checking in, ask for two business cards. Always leave one of the cards by the phone in your room and keep the other one with you. That way, you always have the correct phone number and address.
Select a room that is not located on the ground floor with access through a window.
When going into your room, double check doors and locks to ensure they secure properly.
Always use the deadbolt when in the room!
Being a travel nurse can be extremely rewarding but be sure to remember these safety tips the next time you hit the road!