From mountains to beaches, and from rural countryside to big city living, Massachusetts is its own melting pot of geographies. Abundant in history and opportunity for traveling healthcare workers, Massachusetts is a renowned hub of elite colleges, universities, and medical research, making an impact so profound that besthealthdegrees.com describes it as "one of the most thriving healthcare industries within the U.S.". If that's not enough to entice you, here are some more reasons why Massachusetts should be a bucket list work destination.
History, History, and more History
If you love history, there are few places you can go within the U.S. that will take you all the way back to our country's origins. Visitors often take their own pilgrimage to Plymouth, Massachusetts to see the landing site of the Mayflower, and one of the first Pilgrim settlements on U.S. soil. Plymouth offers a diverse experience with farms, farmer's markets, history tours, dining, shopping, a cultural district, and museums, just to name a few. If you haven't started tracing your family history yet, now might be a good time! You can also visit Boston, Massachusetts, the site of the Boston Massacre, and the Boston Tea Party that played a major role in the start of the Revolutionary War.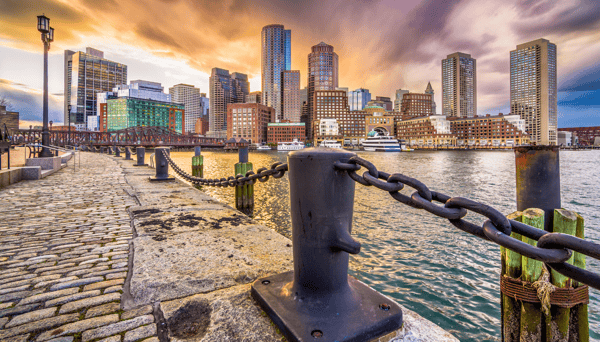 Yay, Sports!
You've probably heard of the Boston Red Sox, but did you know that early basketball and volleyball were created in Massachusetts? The deep history and culture in Massachusetts has led to a diverse sports landscape supporting colleges, universities, and major and minor league teams. What better way to sit back and relax after a rewarding day as a traveling healthcare provider than with one of America's oldest traditions right where it first started?
Outdoor Enthusiasts Delight
If you can't decide whether you prefer the mountains, or the beach, never fear! Massachusetts is here. The Western side of the state is rich with lush mountainous terrain, where visitors can ski, go white water rafting, and bike, while the Eastern side of the state borders the Atlantic Ocean and offers beaches, whale watching, and old New England coastal town experiences. You truly get the best of both worlds. Be sure to check out the American Nurses Association of Massachusetts for RN Perks available to traveling nurses and healthcare providers working in the state.
Don't debate on taking your travel nursing skills to the mountains or the beach! Take a look at our job openings in Massachusetts on the LeaderStat job board, and experience both.