Advanced Practice Providers and Locum Tenens
The team of healthcare providers at a hospital, medical practice or long-term care facility is an essential part of an organization's overall success. A vacancy can have immediate, significant consequences on quality of care, morale of staff and the organization's financial bottom line.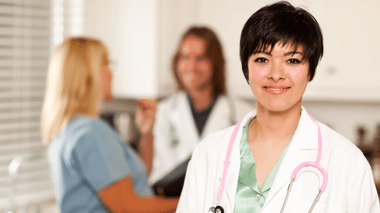 LeaderStat places nurse practitioners (NPs), physician assistants (PAs) and physicians in temporary and permanent positions throughout the country. As an industry leader and a primary source for top healthcare talent servicing healthcare organizations nationwide, we are contacted by many that look to the hiring of locum tenens as a strategic way to ensure continuous quality care to their patients.
With demand rising for services, healthcare organizations are facing staff vacancies that can lead to delays in treatment and long waiting times for patients as well as provider burnout for staff members.
Using providers makes hiring high-quality staff quick and easy. Being a locum provider gives physicians, physician assistants and nurse practitioners independence, flexibility and unique experience to enhance their careers.
Our Highly Experienced, Professional Locum Tenens Providers Set Us Apart From Other Firms
LeaderStat connects healthcare organizations with exceptional locum tenens 24/7/365. Our team is dedicated to finding highly-qualified, experienced physician assistants and nurse practitioners for short and long term assignments, and physicians for permanent placement.
We know the value of an exceptional provider's skills and experience and our recruiters maintain a robust network of qualified, accomplished providers who can be placed quickly anywhere in the country, at any time. As seasoned, experienced clinicians, LeaderStat providers require minimal training to get up to speed with your procedures, which means a quick, smooth onboarding process and almost instant time-to-impact for your organization.
Our experienced, network of providers and dedication to customer service -to our healthcare clients and to -our locums set us apart from other firms. Whether you need a provider on an interim basis or permanently, we handle the details:
Locum tenens providers are employed by LeaderStat
We handle hiring and travel arrangements
LeaderStat provides health insurance and retirement benefits
We facilitate licensure and prescriptive authority compliance
Our Clinical Director is also a board-certified Nurse Practitioner
Let us source candidates, manage their travel, and facilitate compliance with licensures and prescriptive authority while you focus on providing top-notch care to your patients.